Boom Boom Room presents NEON-GHOST ("The Music of MONONEON feat. GHOST-NOTE")
Monday
April 29, 2019
11:55 pm
(Doors:

11:45 pm

)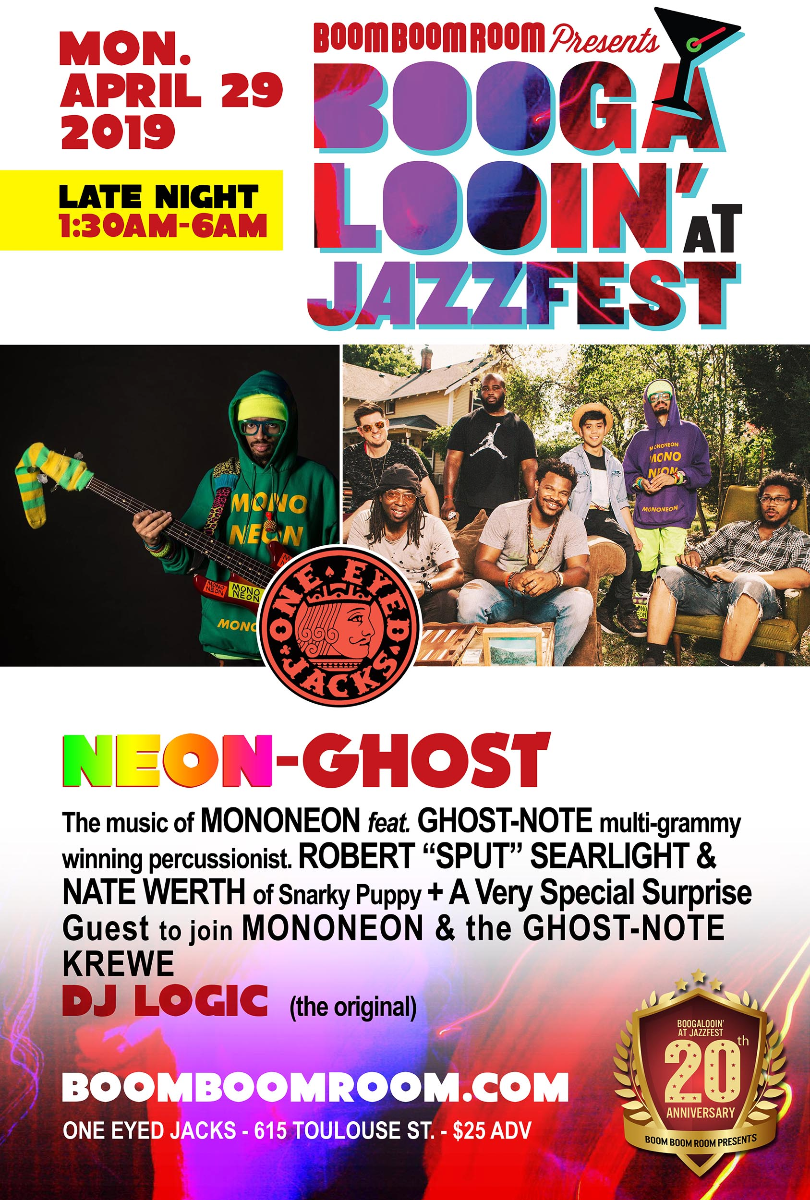 $25.00
BooM BooM RooM Presents
** NEON-GHOST **
[The Music of MonoNeon featuring GHOST-NOTE]
@ One Eyed Jacks in New Orleans
LATE-NIGHT SHOW
[Celebrating the Music of Mono-Neon]
BooM BooM RooM Presents is always bringin' the best Music Love to the best Music Lovers.
We invite ALL ya'll to join us as we welcome GHOST-NOTE featuring:
Drummer Robert Sput Searight & Percussionist Nate Werth (of Snarky Puppy) together within this all-star band.
MONO-NEON is set to blast off … Are you readyfor this ? Of Course!
• 2017 Grammy Nomination for Best ContemporaryInstrumental Album for the album Culcha Vulcha, as a member of Snarky Puppy
• 2016 Grammy win for Best ContemporaryInstrumental Album for the album Sylva, as members of Snarky Puppy
• #1 on iTunes Jazz Chart with"Fortified‬" (October 2015)
• 2014 Grammy Award Winners for Best R&BPerformance (Snarky Puppy with Lalah Hathaway)

If the Grammy Award winning band, Snarky Puppy,was a heart, drummer Robert Sput Searight and percussionist Nate Werth serve asits explosive pulse. World renown for their artistic communication throughrhythm, this dynamic duo debuts their own project, expanding their percussivevoice into a night of melody through innovative grooves and captivatingartistry.


GHOST-NOTE
Robert Sput Searight is one of the mostinfluential drummers and producers in modern music. Hailing from a family ofmusicians in Dallas, Texas, Searight came up alongside artists like ErykahBadu, Norah Jones, and Roy Hargrove at the world-famous Booker T. WashingtonHigh School for the Performing Arts. He won a Grammy Award at age 18 with hisown group, God's Property, who changed the face of Gospel music with theirdebut album. Since then, he proven to be unparalleled in versatility as adrummer, keyboardist, and producer. Artists like Snoop Dogg, Erykah Badu,Celine Dion, Justin Timberlake, P Diddy, Timbaland, Myron Butler, and KirkFranklin employ Searight's talents regularly.

As the undeniable secret weapon of Snarky Puppy,Nate Werth is both rooted in tradition and constantly innovating in thepercussion world. His creative approach to sonic possibilities and rhythmicinterplay has been integral to the sound of the group, and has earned therespect and support of percussion big-wigs like LP founder Martin Cohen.Performing and recording credits include Screaming Headless Torsos, DavidCrosby, Q-Tip, Lalah Hathaway, Susana Baca, The Lee Boys, Turkuaz, Myron Butlerand Levi, Jamison Ross, and The Metropole Orchestra, and many more. Havingstudied Indian, African, and Latin American traditions extensively abroad, Natebrings a unique sound palette to every musical environment, his deep sense ofgroove, passion and eclectic style, result in a distinct musical voice thatpropels him across musical borders.