FREQUINOX (Walter, Harrison, Moore, Bernard, Mercurio) & DJ LOGIC (EARLY SHOW)
Monday
April 27, 2020
9:00 pm
(Doors:

8:00 pm

)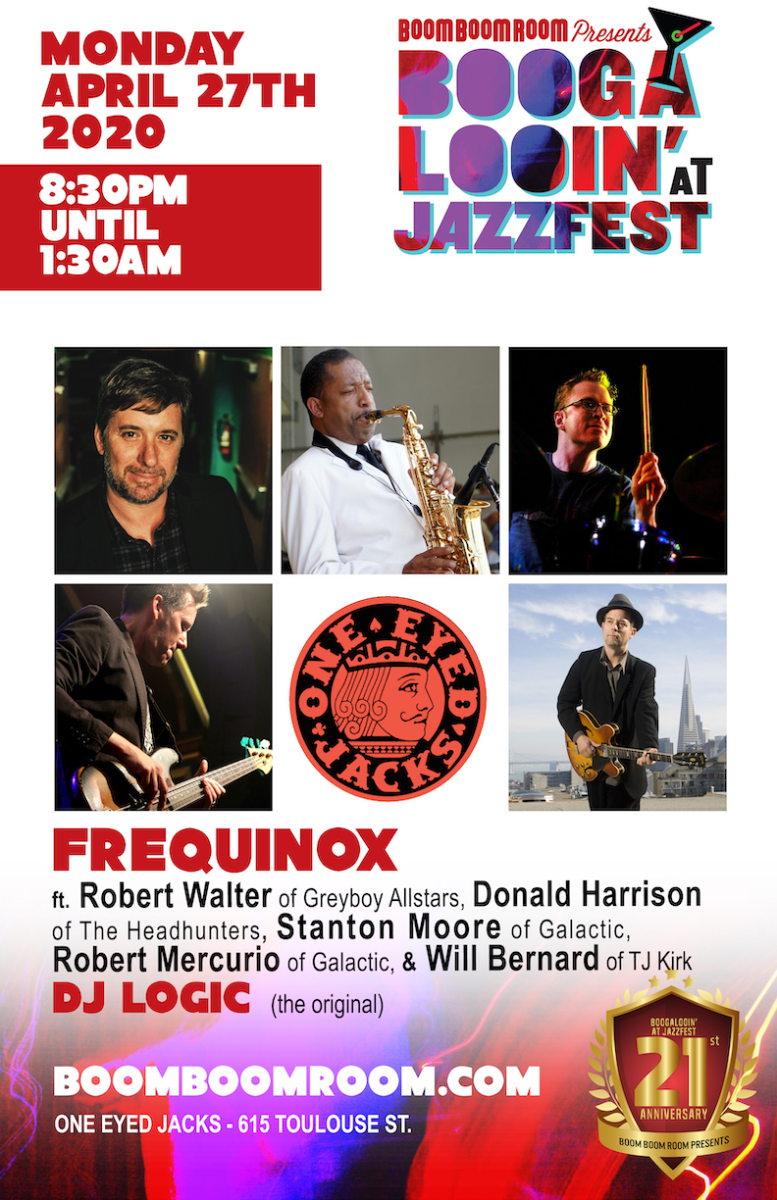 $25.00
FREQUINOX is not just a band; it is a super group of musicians. Born of the concept that in combining members from the "best of the best" of the West-Coast's Soul-Jazz Boogaloo bands with those of the "best of the best" from New Orleans to form a Super group so damn funky and exceptional that it would be the cause of an out-and-out, general freak-out for those that witness this sensational group! This is a Boom Boom Room Presents Original Super Band.
Donald Harrison
Having recorded with the Headhunter, this sax player from NOLA is a true legend. He also combined jazz with Afro-New Orleans traditional music on his critically acclaimed and influential albums "Indian Blues" in 1991 and "Spirits of Congo Square" in 2000.
Stanton Moore
Stanton Moore is a dedicated drummer and performer especially connected to the city, its culture and collaborative spirit. Driven and inspired by the thriving music scene of his hometown which includes such greats as Professor Longhair, Doctor John and The Meters, Moore's name is now mentioned amongst these Big Easy mainstays.
Robert Mercurio
New Orleans local, and founder of Galactic, this bassist knows how to get groovy. Mercurio has been performing in the funk scene for decades.
Robert Walter
Robert Walter performs all his own stunts. For 20 years, the San Diego native has been pulling drawbars and pushing the limits of the Hammond B3 organ. Walter helped form the Greyboy Allstars in 1993 with Karl Denson, Elgin Park, Chris Stillwell, Zak Najor, and DJ Greyboy. Influenced by soul-jazz and funk records from the 1960s and 70s, the band juxtaposed jazz improvisation and dance music.
Will Bernard
Will Bernard's unique voice was formed for the most part from the roots of the San Francisco Bay Area. Along the way he studied classical music, jazz, played in basements and coliseums, and absorbed the Bay Area Multi-Kultii, the New York downtown edge, and the loose funk of New Orleans. He has performed or recorded with Charlie Hunter, Stanton Moore, Robert Walter, John Medeski, Dr Lonnie Smith, Ben Sidran, Peter Apfelbaum, Jai Uttal, Tom Waits, Dr. John and a lot of other known and unknowns. Will can be seen working in a chameleon-like way to fit into his current habitat. His 2007 CD "Party Hats" as well as his 1997 collaborative project T.J. Kirk's If Four Was One were both nominated for Grammys, and he is nominated yearly in Downbeat Magazine's Critics Poll for "Best Rising Star" Guitar Player. Currently, Will performs with John Medeski's Mad Skillet, Peter Apfelbaum's Sparkler, Frequinox with Stanton Moore and Robert Walter, Pleasure Drones, Brian Charette's Mighty Grinders, Will's 8th album as a leader, Out and About was released in 2016 on Posi-Tone Records.
DJ LOGIC (the Original Logic)
DJ Logic is a turntablist active primarily in nu-jazz/acid jazz and with jam bands. Kibler was born and raised in The Bronx. An early interest in hip hop led to his using the turntables, practicing often. He has performed as a guest of Ratdog, Medeski Martin & Wood.