David Bowie Glitter Glam Spectacular (2AM SUNDAY LATE NIGHT)
Sunday
October 11, 2020
11:55 pm
(Doors:

11:55 pm

)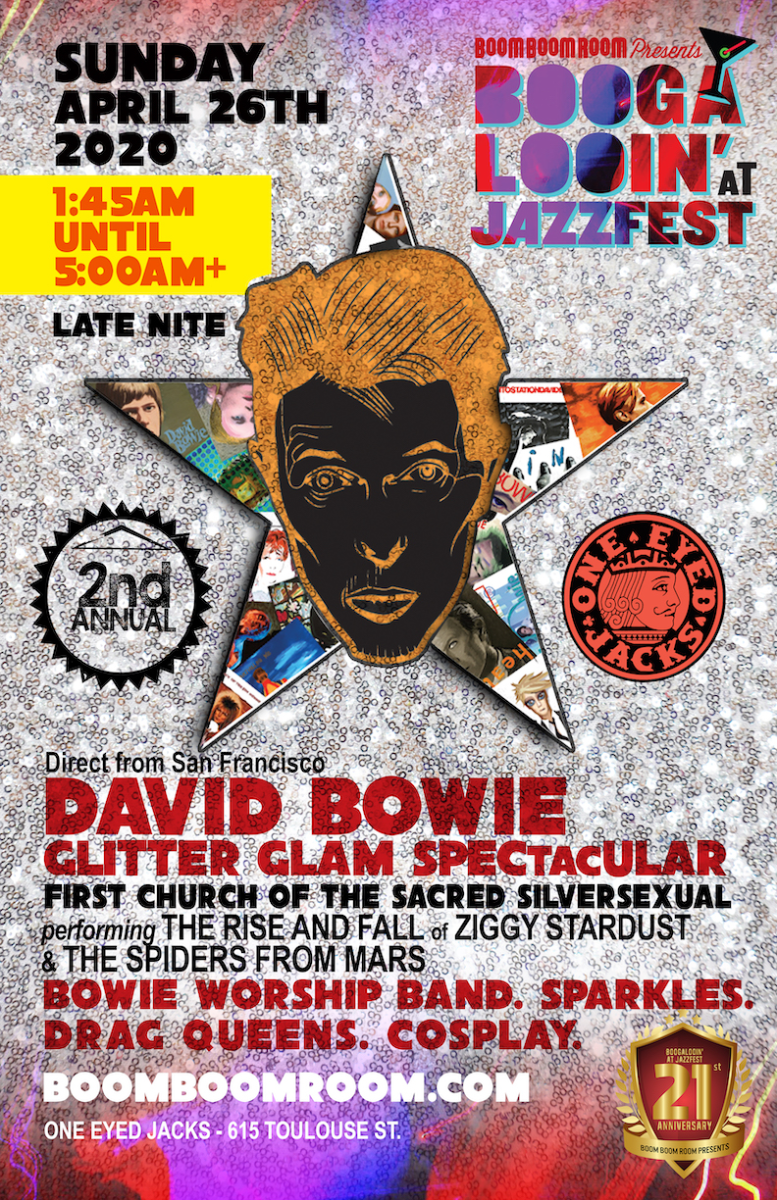 $15.00
***THIS SHOW IS LATE NIGHT SUNDAY SHOW. STARTS AT 2AM***

The First Church of the Sacred Silversexual is the World's Only David Bowie-based religion
. Led by Reverent Father Lysol Tony-Romeo and a 8-piece Worship Band, they hold church services where Ziggy is the focal point, not Jesus, so they play Bowie songs. No true tribute to the Thin White Duke would be complete with a big fuck-all stage show, so the Silversexuals are joined by a cast of burlesque performers and drag queens as they build a theatrical spectacle on top of the timeless classics and endless B-sides of Bowie's impossibly long career.
The First Church debuted in 2011, drawing 225 people to their first show. In 2013 they won a SF Bay Guardian Best of the Bay Editors' Pick for Best Bawdy Bowie Worship.
For the past 6 years they've sold out annual Bowie Birthday shows at The Chapel in SF. Having grown into an SF institution for its reputation as a unique, "only in San Francisco" experience, the Silversexuals have made pilgrimages to Seattle, Portland and Los Angeles,
but this is the first time they're bringing their message that
"Bowie Loves You" east of the Mississippi!
THE BAND:
* MAJOR TOM * (Michael Carney) – Singer (GoldMinor, Dragland)
* FOXE FATALE * (Whitney Moses) – Singer (Midtown Social)
* HAZY D. RANGED * (Adam Dragland) – Guitar,Vcls (GoldMinor, Kat Robichaud's MisfitCabaret)
* CHRIS JONES * – Guitarist (Scary Little Friends)
* RUDI MOONSHINE * (Tim Baker) – Bassist (Bad Jones)
* THE STARDUST STRANGER * (Charlie Knote) – Guitar (Scary Little Friends, Dragland)
* BLAM BLAM * (Brendan Getzell) – Keyboard, vcls (Kat Robichaud's MisfitCabaret)
* GOLDEN MOONBOY MESSIAH * (Eli Maliwan) – Sax (Suenos, Kat Robichaud's MisfitCabaret)
THE DRAG QUEENS:
But that's not all! A proper religious tribute to Bowie wouldn't be complete without a Big Spectacular Stage Show, and we've got that and more! We will be welcoming some of SF & NEW ORLEANS' favorite drag queens and burlesque stars to the stage as the Spirit of Ziggy flows throughout the performance!